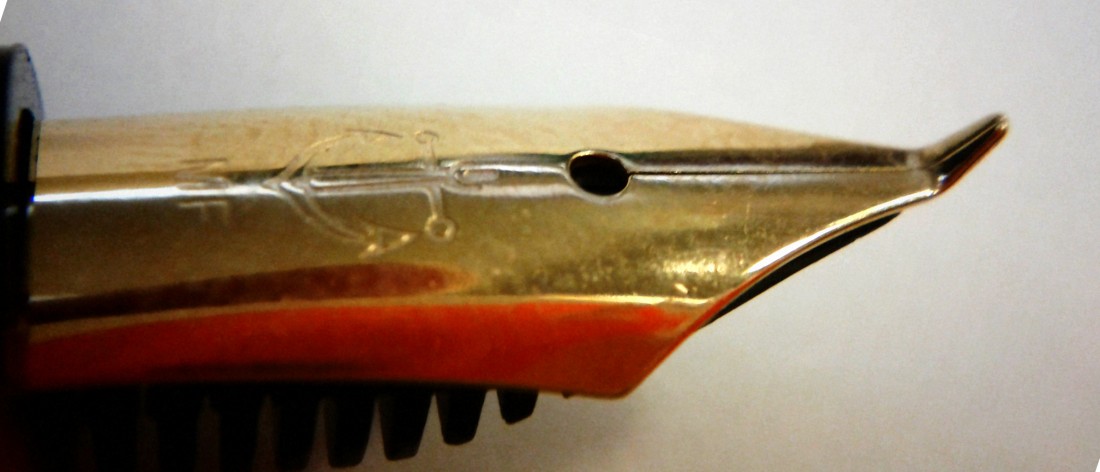 I've been hankering after a angled 'brush' nibbed fountain pen for a while… China Town in Manchester disappointed where it had once delighted: I had once bought a fab heavy generic brush calligraphy nibbed fountain pen of this sort there, but as usual it's long since lost; on last visit all they had was a fountain pen with a huge felt brush nib – I mean… who wants that?!
So with a resolve to cure this yen I did a little idle trawling on
ye olde jetpens
site brought up a pen from the reputable Sailor pen company and.. well I'd just been paid so I was bad –
I indulged in ordering pens from t'net
.  They arrived remarkably quick as well (you expect things to be held in customs for an age and to be set a random vat level, but no… so here be the pen…  and hark at that nib (ain't it a laff. ?).
You get a couple of cartridges,  and thankfully they're black, so I got to have a play on my lunch hour during work.   This is not alien ground  I have used similar pen before, so I know the form, but for the purpose of .. shall we say 'evaluation' I gave it to a couple of colleagues to try, to see how they got on and they struggled.   It's really not a pen that people get their heads round on first use as ..well, it's crooked.
The pen is designed for Japanese calligraphy (writing).
  I guess before there were brushpens that you could carry about with you this, sort of things would be a pen of choice, that or one of those lovely and expensive flexible pen nibs this sort of nib was a good way of achieving some inflection to a line, and really – we could do with more inflection.  In operation this sort of apes how a brush operates – you can dive in with a broad stroke and lift out to a lovely taper.

There's no great trick to using it, there's this great flat area at the end of the nib, you plonk  it on the paper and start to write (or draw, in my case; that's why I bought it).
If you're new to this sort of pen it's best to start by just putting the flat (bent over area) on the paper & moving it around at it's preferred angle to start with.  
Unless you're someone who holds pens very upright, this pen, (being the 55 degree one) is a nice normal writing angle.   All you'll get with the nib flat is a very broad line as there's a lot of nib in contact with the page so make satisfying broad stokes – so much so it can be used to 'fill' areas really quite well.  Then move on to trying the pen in a more  upright position, with just the very tip, of the pen in contact with the page.  
From here the pen probably works more like a normal fountain pen – it's still quite a bold nib for a pen as this particular version was never designed for fine filigree.  If you
 must
 have a thinner line then it's possible to use the pen upside down (reservoir up, gold underneath) – it seems forgiving of this sort of use (still smooth, no catching or scrape).   After you've played with the differing lines it can do on a static level – figured out some level of the limitations of the things, then flick it about & adjust the angle you're holding it to get a real feel of what the pen is capable of doing; it's really not a timid thing; it's a very bold pen – it swoops and skates along the page at a great pace, but if you're unused to this sort of speed & bluntness you'll find it difficult to make satisfying lines.  You can adjust the angle down as you want the thicker line and conversely 'flick' a line in the other direction; a broad to fine line.   It can take a while to get used to this sort of thing. but  you expect this with a new pen, (don't you) and this (being that bit unusual) takes a little longer to figure the parameters –  it's a fun pen to use, you can get some wonderfully expressive lines and you can daub swathes of inky blackness.